Share this story!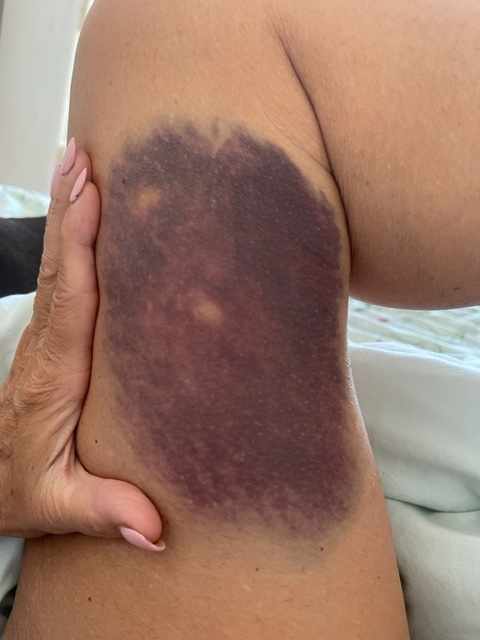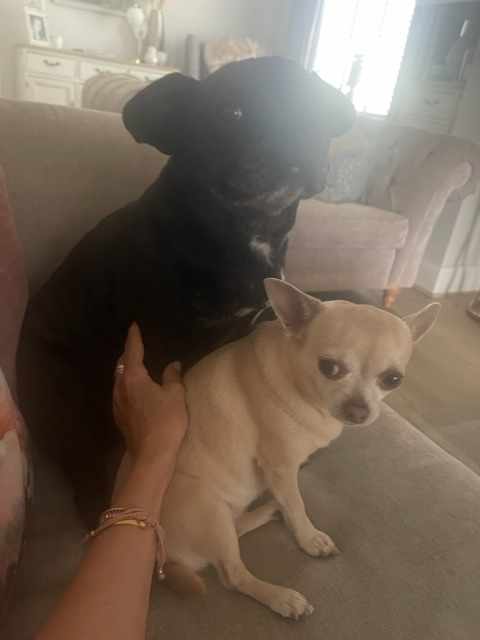 A LEIGH dog owner is sending out a warning to other pet owners following a vicious attack on her and her two dogs.
Lesley Ross, 65, was out walking her Chihuahua and French Bulldog in the Belfairs Park Woods near the playing field when they were attacked by two dangerous dogs off their leads.
The attack saw her Chihuahua being taken up in a Pitbull's mouth, before Ms Ross herself was bitten on the leg.
Ms Ross explained: "There was a couple with a small child on a little scooter around two or three and two large dogs, one a Doberman with clipped ears and the other a Pitbull, who were running around off lead.
"I walked down the side of the fence line with my dogs and saw the couple walk away across the field towards the Belfairs Golf Course.
"Suddenly I was aware of the Pitbull running at me and my dogs. It just grabbed my little chihuahua in its mouth and rag dolled her, and she was screaming.
"I managed to punch it with the plastic end of the lead I had in my hand, which surprised it and it dopped my dog.
"The man came over to grab his dogs, but was shouting at me."
It wasn't until the ordeal was over that Ms Ross realised she was injured, where the Pitbull had bitten her on the inside of her leg.
She said: "I had trousers on, so it didn't break the skin thankfully, but I have the biggest lump and huge bruise now and find it really hard to walk."
Ms Ross added that she wanted to share her story as a warning to others and to make a plea for dog owners to behave more responsibly.
"This is a warning to other dog walkers. It's unacceptable that people own dogs who are clearly untrained or unable to be social in park areas.
"Dogs should be on lead or wearing a muzzle. It's not the dog's fault, it is the owner's fault for not training it properly and keeping it on a lead."
She added: "I've put a notice about this on the neighbourhood group too, to make people aware.
"My fear is that elderly people walk their dogs in this area and these incidents can be absolutely horrific.
"The problem is, dog-on-dog attacks are not illegal in this country, but something needs to be done to make owner's more responsible."
Ms Ross managed to take a photo of the dog owners in question and has passed the images to Essex Police for investigation.
A police spokesperson said: "We are investigating following an incident where it was reported a woman and her dog were bitten by two dogs in Leigh-on-Sea.
"It was reported to have happened in Danescroft Drive at around 4.50pm on 29 June.
"The victim, a woman in her 60s, reported being bitten to the leg.
"If you have any information, CCTV, dash cam or other footage in relation to this incident, then please get in contact with us. Please quote the crime reference number 42/116883/23.
"You can let us know by submitting a report on our website or by using our online Live Chat service available Monday to Friday (excluding public holidays) between 10am-9pm.
"Visit www.essex.police.uk/digital101 to find out more about our website reporting services. Alternatively you can call us on 101. In an emergency always call 999.
"If you would like to make an anonymous report you can contact independent charity @Crimestoppers, by visiting their website or by calling 0800 555 111."
Pictures: Lesley's injury sustained form the attack  & Lesley's two dogs.
Read more.
Visit: https://leigh-on-sea.news
Facebook: https://www.facebook.com/leighonsea.news
Instagram: https://www.instagram.com/leighonsea.news
Contact us. Visit: https://leigh-on-sea.news/contact-us
Twitter: @leighonsea_news